~Welcome to my Blue's Clues Page!!~
---

This page was modified on February 3, 2002

Hello to all my little Blue-loving friends! I do this site for the kids that love Blue's Clues.

This site began when I couldn't find any graphics that were different from others on the World Wide Web. I wanted something original for my daughter's page. I'm thrilled that I have been able to share these with others and bring joy to other children.

I'm sad to say that I will no longer be updating these pages. I just don't have the time with all that is going on in my life. I will keep the site online until Viacom tells me to take it down. I will not be doing any more customizing. Feel free to do them on your own. As far as the framing goes, I won't be doing that either. I just don't have time. I apologize! Feel free to try it yourself, though.

Thank you so much everyone for visiting and signing my guestbook. It may take me a long time to return your visit or reply, but I read every entry! I'm very touched by all of the compliments.
---
This site contains graphic sets that I have created using Blue's Clues images. With the exception of the set on most of my index pages, all sets and graphics are free for you to use on your personal homepages, art projects at home, party projects...whatever! If you decide that you would like to use any of my sets, I do ask that you follow a few simple guidelines.
Always tell everyone where you got them so that they can come get them too!
Please don't say you made it if you didn't! :)
Make sure that whatever you do, it makes your little one happy!
As far as legal stuff is concerned, I am in no way affiliated with Viacom or Nickelodeon...these graphics are for personal homepage use only and all images used to create these are property of Viacom or Nickelodeon... Most of the images came from items that I scanned at home...coloring books, ads, sticker books, cd rom packages, etc...
---
~FREE BLUE'S CLUES GRAPHICS BY MORVIA~
---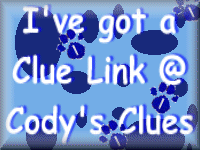 Support BLUE'S CLUES on the web
---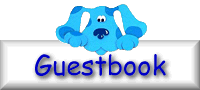 Sign My Guestbook

View My Guestbook
questions, comments... e-mail me !
Free Blue's Clues Graphics by Morvia
created and maintained by Morvia
© Morvia 1999